The Story
The Brook­lyn Wal­dorf School's week­ly elec­tron­ic newslet­ter is the lynch­pin of its inter­nal com­mu­ni­ca­tions strat­e­gy. Par­ents, teach­ers, staff and board mem­bers all look to it for infor­ma­tion about the bewil­der­ing num­ber of events in the com­mu­ni­ty. Unfor­tu­nate­ly, the school had been con­sis­tent­ly strug­gling in this area.
An out-dat­ed tem­plate pre­sent­ed dense­ly-packed, dis­or­ga­nized infor­ma­tion. Cor­rec­tions and adden­da fre­quent­ly popped-up in already-crowd­ed inbox­es at all hours, on all days. Com­mu­ni­ty mem­bers became frus­trat­ed with the com­mu­ni­ca­tions from the school — some to the point where they stopped open­ing emails and began to dis­con­nect. Some fam­i­lies leav­ing the school cit­ed the school's "lack of pro­fes­sion­al­ism" as a rea­son for leav­ing — and the enews was a prime exam­ple of this impression
The Team
1 admis­sions direc­tor
1 busi­ness man­ag­er
1 web devel­op­er
Yours Tru­ly
My roles were
Project man­ag­er
Infor­ma­tion archi­tect
Con­tent strate­gist
Copy­writer
Graph­ic Design­er
Photographer
Strategy
Dis­cus­sions with stake­hold­ers revealed a wide range of atti­tudes about the school's elec­tron­ic com­mu­ni­ca­tions, notably:
Admin­is­tra­tive lead­er­ship was unhap­py with the time­li­ness of delivery
Teach­ers were stat­ed they received too many emails from the school.
Par­ents thought that emails were spo­radic. They want­ed to be informed, but felt over­whelmed by "infor­ma­tion over­load." They also not­ed that the newslet­ter was dif­fi­cult to read — par­tic­u­lar­ly on mobile devices. Some com­plained about nev­er receiv­ing com­mu­ni­ca­tions from the school.
My goal was to address these issues, and pro­vide the com­mu­ni­ty with infor­ma­tion that was:
Time­ly
Accu­rate
Holis­tic
Digestable
Con­sis­tent
Doing so would help the school's desire to be seen as sta­ble, mature, and reli­able insti­tu­tion, and ease the infor­ma­tion over­load many were experiencing.
Measuring Success
Suc­cess was mea­sured by the num­ber of email opens; links clicked would gauge interaction.
Qual­i­ta­tive feed­back from the com­mu­ni­ty mem­bers would also be tak­en into account.
Discovery
The orig­i­nal newslet­ter was a great start, serv­ing its pur­pose dur­ing the chaot­ic time of the school's rapid growth. Now that the school had matured, it was time for the newslet­ter — and com­mu­ni­ca­tions in gen­er­al — to catch up.
A review of the ana­lyt­ics showed that emails were opened around of 51% of the time — with 60% of those opens on mobile (which was trend­ing upwards).
An audit of pre­vi­ous newslet­ters revealed a num­ber of issues. In gen­er­al: the lay­out, con­tent, for­mat, tim­ing, and voice could all be better.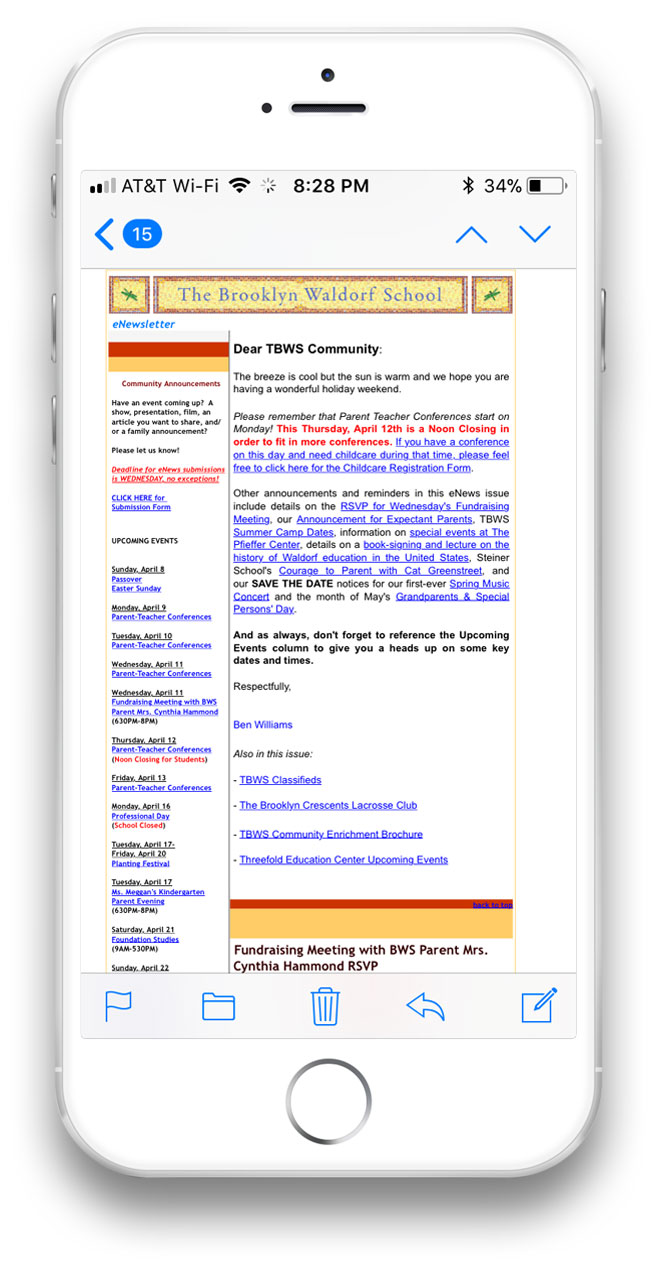 Users had dif­fi­cul­ty read­ing and nav­i­gat­ing the eNewslet­ter on mobile devices.
The two-col­umn lay­out worked okay on desk­tops, but more and more par­ents opened these emails on their phones.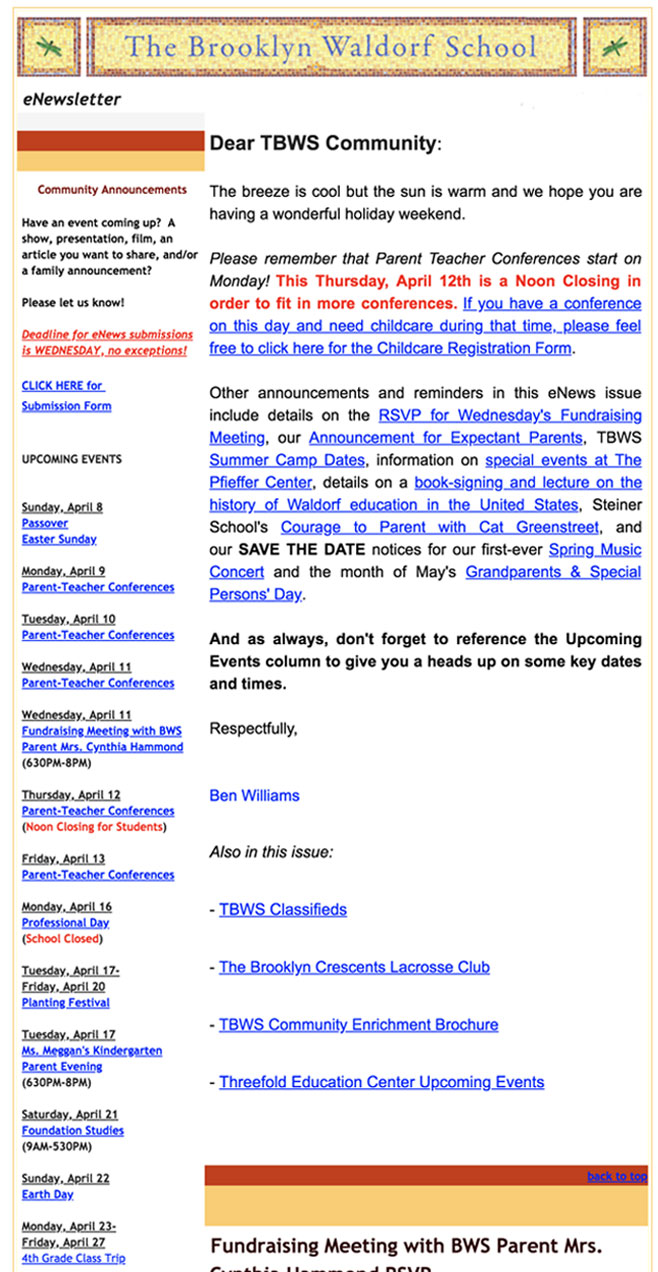 The dense, link-filled para­graphs chal­lenged some com­mu­ni­ty mem­bers atten­tion spans — and eyesight.
Less-than-stel­lar typog­ra­phy made the hier­ar­chy of infor­ma­tion dif­fi­cult to dis­cern, result­ing no place to rest the eye .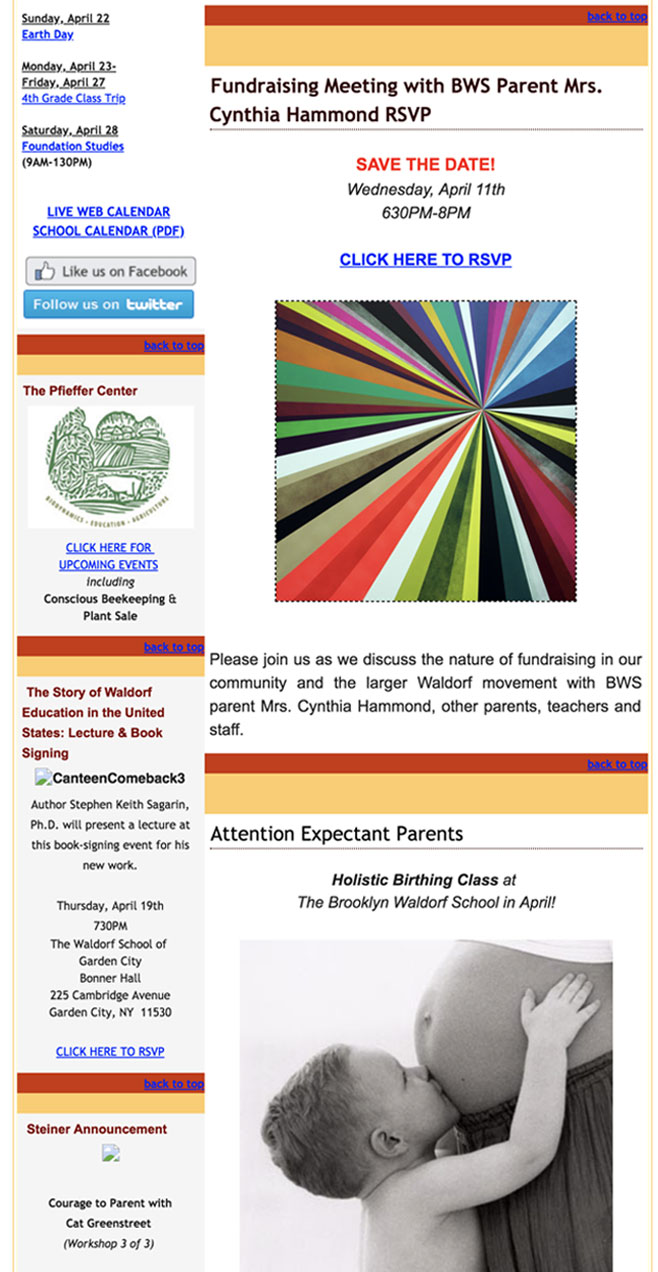 Stock pho­tos are good eye can­dy, but they fail to mean­ing­ful­ly con­nect the user to the school.
The school's unique aes­thet­ics and plen­ti­ful events were just beg­ging to be shared with the community.
Final­ly, the emails arrived in fits and starts — often late Sun­day night — seem­ing­ly with­out a sched­ule or strat­e­gy. This added to the "shoot from the hip" image the school want­ed to get away from.
Analysis
I cre­at­ed three per­sonas based on par­ents and teachers.
From there, I wrote out use cas­es for each. These exer­cis­es re-affirmed the fact that mobile friend­li­ness was cru­cial. Most com­mu­ni­ty mem­bers were extreme­ly busy, but they were also inter­est­ed in what was hap­pen­ing in the school. Almost all enjoyed their involve­ment in the com­mu­ni­ty, but had pre­cious lit­tle time.
Design
The first design deci­sion was a plat­form change. We moved from Con­stant Con­tact — which had zero mobile-friend­ly tem­plates and a clunky user inter­face — to MailChimp, which excelled in their mobile sup­port and smooth UI
I then made index cards, each rep­re­sent­ing the dif­fer­ent types of infor­ma­tion, its sources, and audi­ences. From there, I orga­nized them, which formed the basis of the infor­ma­tion architecture.
Con­ver­sa­tions with admin­is­tra­tive lead­er­ship led to a deci­sion that two types of emails would be sent: a week­ly newslet­ter, and ded­i­cat­ed emails.
Re-imagining the weekly eNewsletter
Build­ing on inter­views, ana­lyt­ics, user tests, and con­tent audits, we set forth on design­ing a week­ly newslet­ter that would serve the school and its thriv­ing community.
Information Architecture
Refer­ring to results of the card-sort­ing process, I came up with the fol­low­ing infor­ma­tion archi­tec­ture for the week­ly newsletter:
1. Pri­or­i­ty announcements

These were typ­i­cal­ly from the admin­is­tra­tion or board. If there were no announce­ments, this sec­tion was omitted.
2. Pho­tos from the school week
Pho­tographs tak­en around the school — ide­al­ly fea­tur­ing one from the grade school, and one from ear­ly child­hood. These drew the user in — and if they saw noth­ing else at least they'd have a glimpse into the school
3. Next week's events in detail
This put every­body knows what's right around the corner.
4. "Look­ing Ahead"
A brief overview of the fol­low­ing three weeks in list for­mat. Con­tained the essen­tials: times, events, and loca­tions — with click­able links to the details if applicable
5. Details from "Look­ing Ahead"
Most­ly used for plan­ning large events or RSVPs. Some­times this sec­tion was omitted.
6. Gen­er­al announce­ments from the School
Bas­ket­ball scores, reminders, updates, etc.
7. Announce­ments from the com­mu­ni­ty and its partners
These could be invi­ta­tions to out­side events, apart­ments for rent, child­care offers, etc.
This basic archi­tec­ture could orga­nize and con­vey the high vol­ume of infor­ma­tion flow­ing through the school.
Copywriting
BWS par­ents are extreme­ly busy, but they also want to know what's going on in their com­mu­ni­ty. They don't want to miss out, but they also don't have a lot of spare time to read. So, when it came to writ­ing and edit­ing copy, I worked hard to make it as clear and con­cise as possible.
Photography
&

Image Selection

Quite a few par­ents expressed their curios­i­ty about the day-to-day goings on at school, so I worked close­ly with teach­ers to gain access to their class­rooms an pho­to­graph their lessons in action. The unique, beau­ti­ful aes­thet­ics of the school envi­ron­ment pro­vid­ed an excel­lent back­drop for images. This proved a unique oppor­tu­ni­ty to meet the needs of par­ents, while simul­ta­ne­ous­ly pro­mot­ing the school and Wal­dorf education.
Dedicated Emails: designed to stand out in a crowded inbox
The sec­ond type of email was called a "ded­i­cat­ed" email. These were designed to focus the com­mu­ni­ty's atten­tion to a sin­gu­lar item. The infor­ma­tion archi­tec­ture was as follows:
1. Well thought out sub­ject line
2. Per­son­al­ized greeting
3. Intro­duc­tion
4. Impact­ful cov­er photo
5. Detailed infor­ma­tion about the event

6. Call to action

Stop the Madness! Establishing a sensible schedule
I worked with admin­is­tra­tive lead­er­ship to estab­lish an orga­ni­za­tion­al pol­i­cy for send­ing emails. The school would only send emails on Tues­days and Fri­days (except­ing emergencies).
eNews is sent every Fri­day after­noon, giv­ing par­ents an oppor­tu­ni­ty to read it over the week­end and plan for the fol­low­ing week.
Ded­i­cat­ed emails can be sent on Tues­days or Fridays
This would estab­lish a steady rhythm of com­mu­ni­ca­tion, and ease some of the infor­ma­tion overload.
Work­ing with­in this struc­ture, I estab­lished pub­li­ca­tions cal­en­dar for the entire school year — giv­ing us a bird's eye view of what need­ed to be com­mu­ni­cat­ed when. This became the cat­a­lyst for a num­ber of inter­nal pro­duc­tion schedules.
Production
Introducing eNews
We re-brand­ed the week­ly newslet­ter as "eNews" — short­en­ing the pre­vi­ous­ly titled "eNewslet­ter" to con­vey the new stream­lined approach. eNews was the cen­ter­piece of the school's inter­nal com­mu­ni­ca­tions strategy.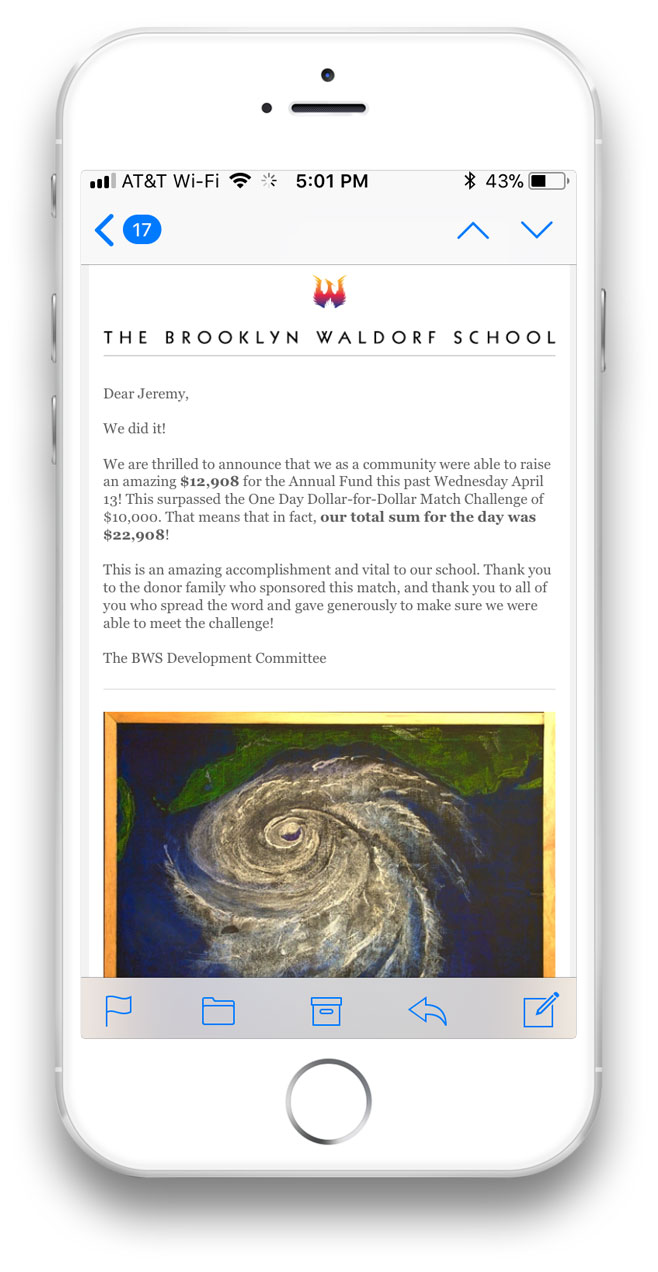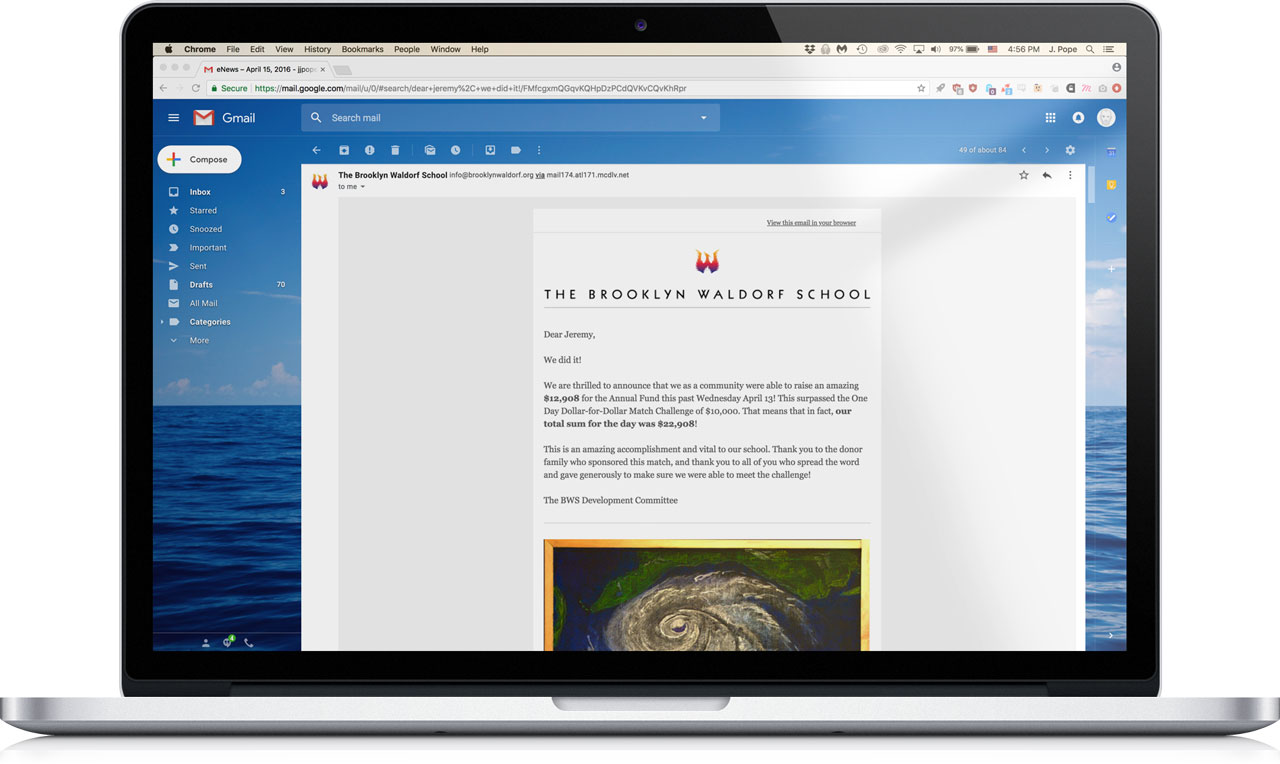 Deliv­er­ing a qual­i­ty mobile expe­ri­ence was a pri­or­i­ty, but that does­n't mean the desk­top ver­sion was neglect­ed — sig­nif­i­cant num­ber of par­ents con­tin­ued to rely on it. We rose to the chal­lenge of build­ing a tem­plate for the noto­ri­ous­ly fick­le and lim­it­ed world of email design that was ele­gant on any device. Par­tic­u­lar atten­tion was paid to typog­ra­phy and image curation.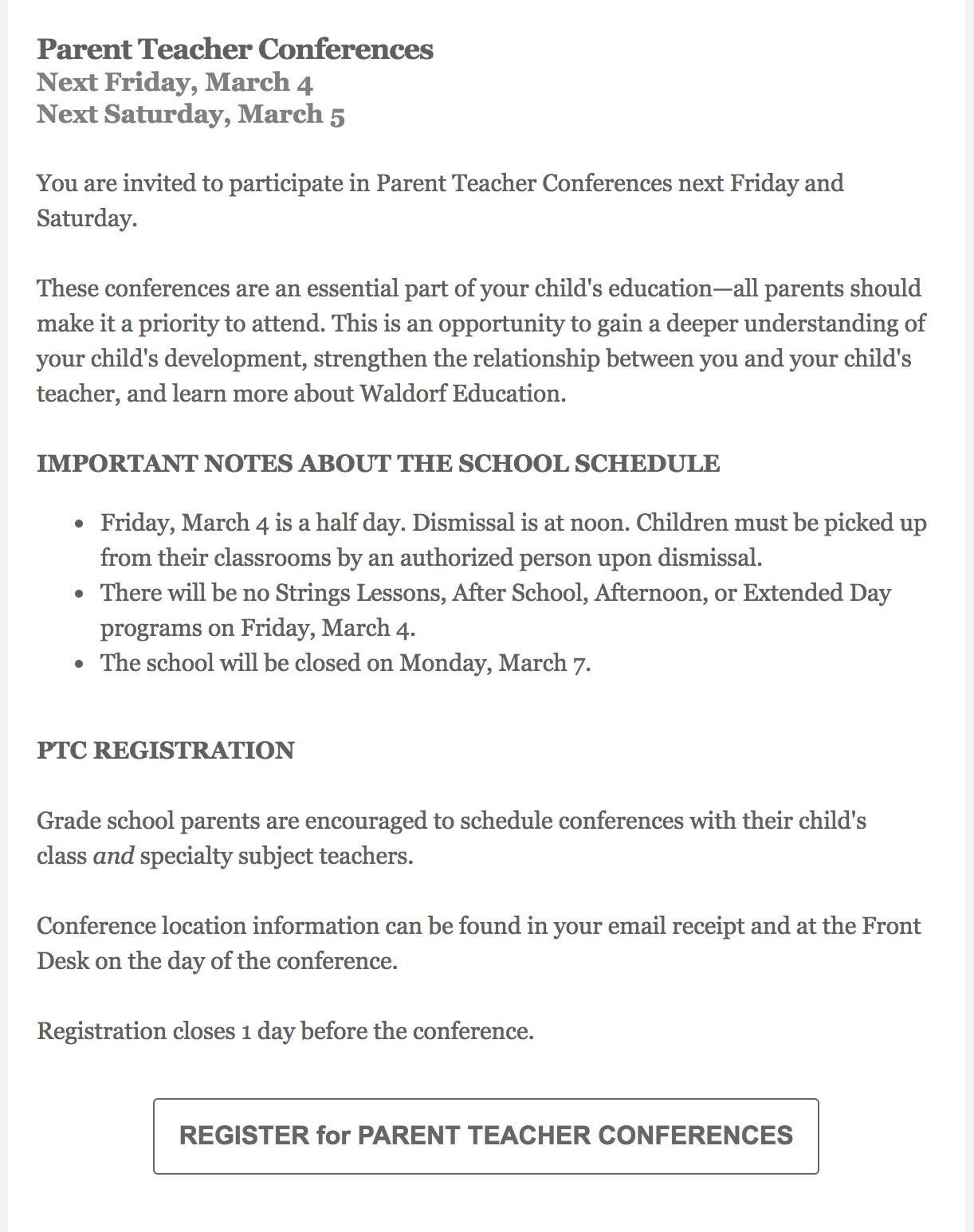 A typ­i­cal "school announce­ment" in eNews. I strived to con­vey a large amount of infor­ma­tion in an eas­i­ly digestible way by using clear, suc­cinct language.
The call-to-action of this impor­tant event was designed to stand out amidst scrolling and scanning.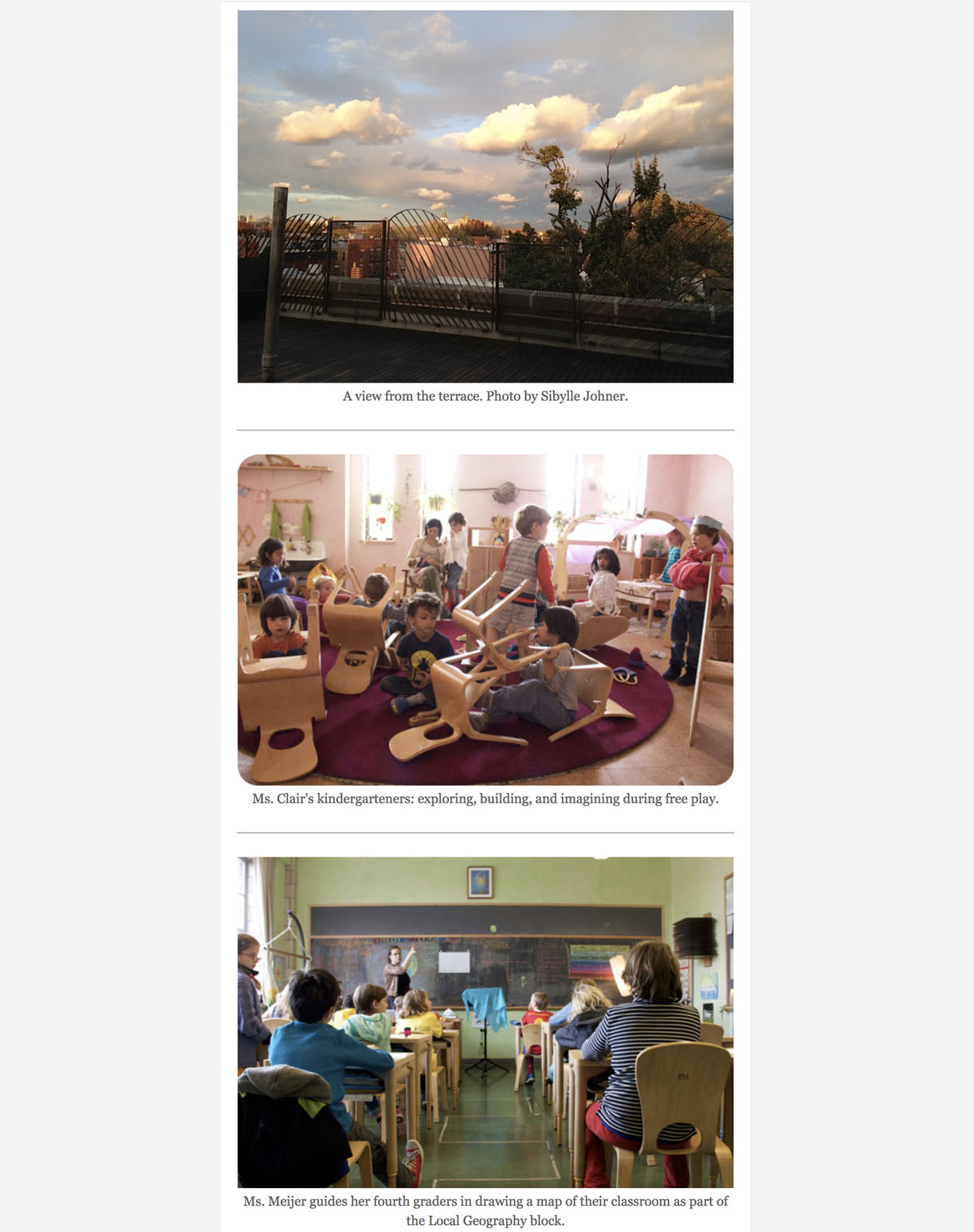 We show­cased dif­fer­ent areas of the school near the top of the email to draw the read­er in. Here we see a ter­race view, kinder­garten­ers in free play, and a fifth grade classroom.
Note the round­ed cor­ners on the kinder­garten pho­to — a nod to the Wal­dorf prac­tice of using round-cor­nered paper until fourth grade.
Dedicated Emails: Announcements with Impact
Some­times, it was a care­ful­ly craft­ed ask from the devel­op­ment com­mit­tee. Oth­er times it was a detailed overview of an upcom­ing event — typ­i­cal­ly with a call to action like "vol­un­teer" or "RSVP."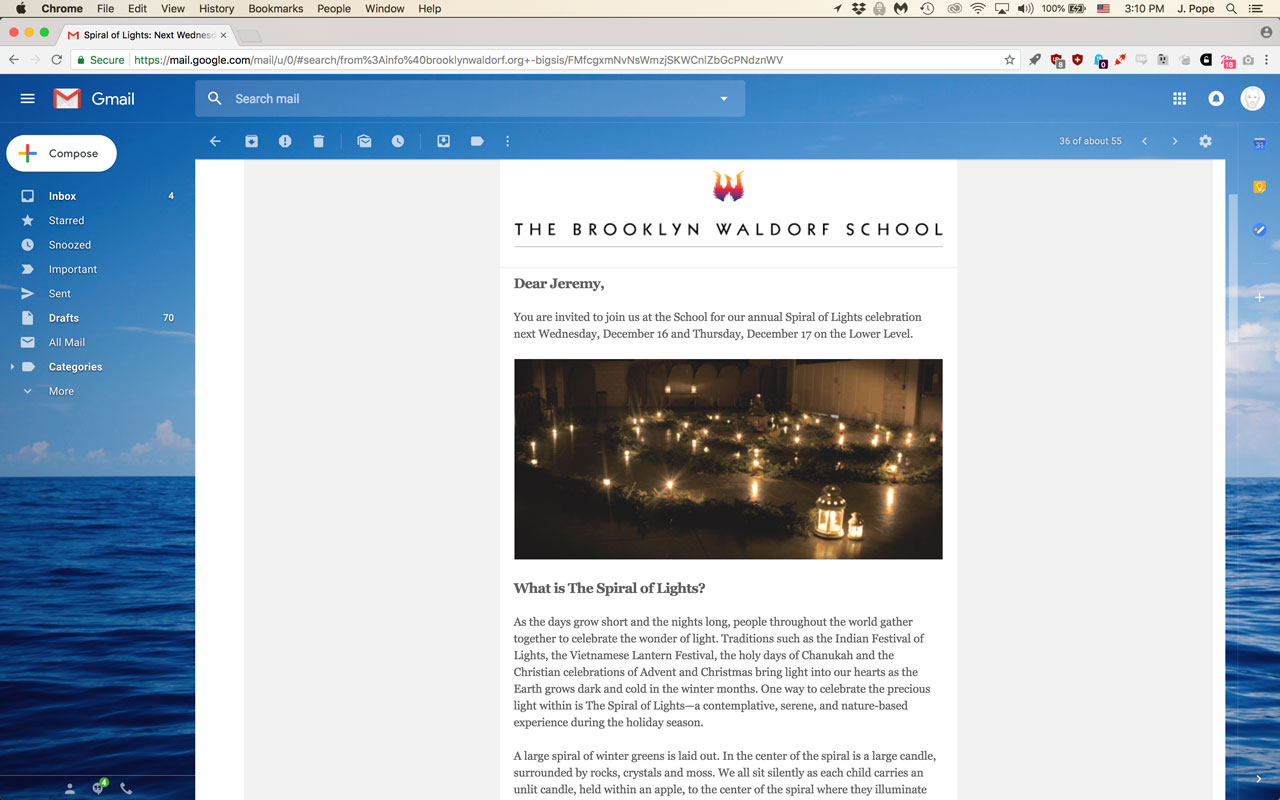 A ded­i­cat­ed email invit­ing com­mu­ni­ty mem­bers to an annu­al event called "The Spi­ral of Lights." It con­tained detailed infor­ma­tion about the event in a sim­ple, ele­gant format.
Note the per­son­al­ized greet­ing, which con­veys warmth and pro­fes­sion­al­ism. I worked with our Stu­dent Infor­ma­tion Sys­tem team to sync the school's ever-chang­ing data­base to MailChimp, which saved time, reduced bounces, and ensured every­one was up-to-date.
A trun­cat­ed ver­sion of this announce­ment — pared down to the essen­tials — would appear in the upcom­ing eNews. It linked back to this ded­i­cat­ed so peo­ple had easy access to the details.
Results
eNews was well received by the com­mu­ni­ty, and it soon became the lynch­pin of the school's inter­nal com­mu­ni­ca­tions strat­e­gy. Opens went from 43% to 62%, and links clicked rose by around 20%. The design con­tin­ued to evolve over time, but the work out­lined above laid a strong foun­da­tion for orga­ni­za­tion­al communication.
From Friction to Flow
Stream­lin­ing a crit­i­cal process
From "Meh" to Modern
Over­haul­ing a web­site after rapid orga­ni­za­tion­al growth