Dear Paget,

I hope you are enjoying the slow—but sure—transition from winter to spring!

As you probably know, next Saturday is our 7th Annual Scootathon & May Fair. It is the only event where the entire school gathers together and enjoys a day outside as a community. For those of you who have been to one, you know what a treat it is; for those who haven't, you'll soon experience something very special.

Now, before you scroll, I'd like to point out that the $50,000 goal of the Scootathon is written into The Brooklyn Waldorf School's budget. The school relies on these funds every year to keep things running. As of this writing, we have quite a ways to go in a short amount of time to meet this goal.

Every community member can help us get to $50,000 by next Saturday, it's really a matter of asking. You don't even have to be a rider! Reach out to family, friends, and colleagues—personalized emails tend to work best—and ask them for their support. You'd be surprised at how painless and rewarding it can be. If you need help, we have outlined some fundraising tips below.

The first 10 riders to reach $1000 on Crowdrise win a lovely tote designed by BWS parent Sinclair Smith…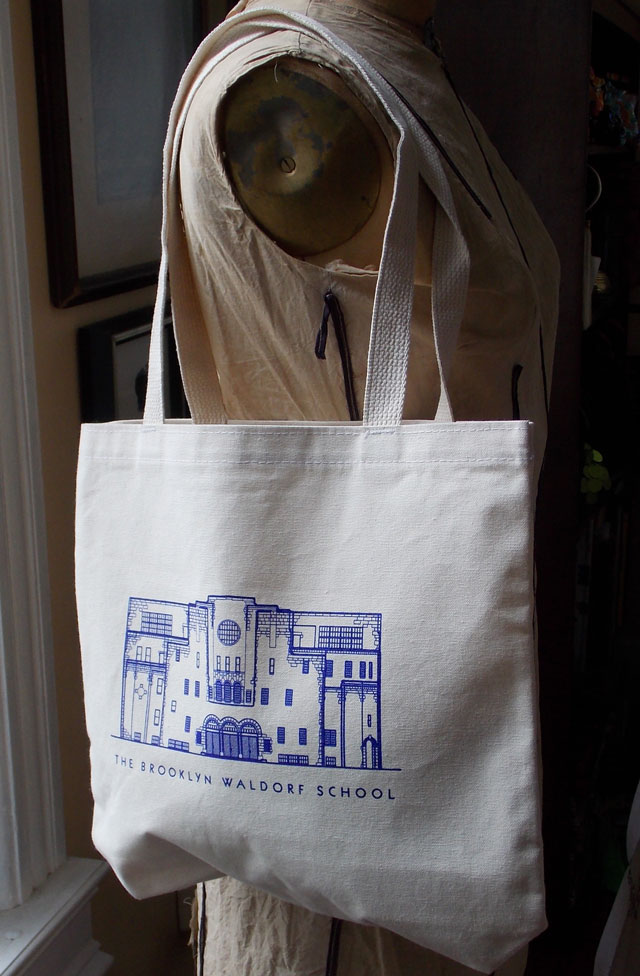 …they will also be entered in a raffle to win a brand new Xootr scooter.

Thank you for your time and fundraising efforts! See you at Prospect Park next Saturday.

Warmly,

Jeremy Pope
Communications Coordinator
The Brooklyn Waldorf School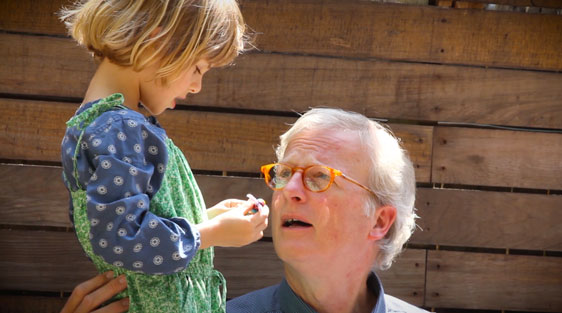 Some stills from last Friday's Grandparents & Special Persons Day. Kudos to the GP&SPD Committee on coordinating the most-attended Grandparents Day yet!

Photos by Penelope Jagessar Chaffer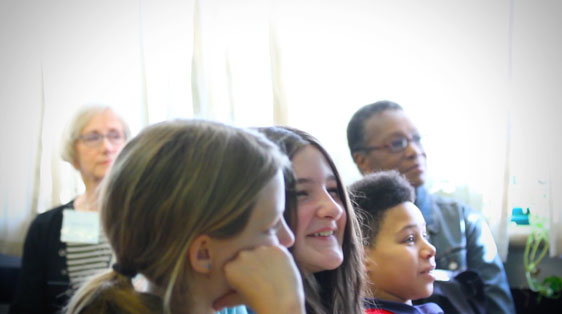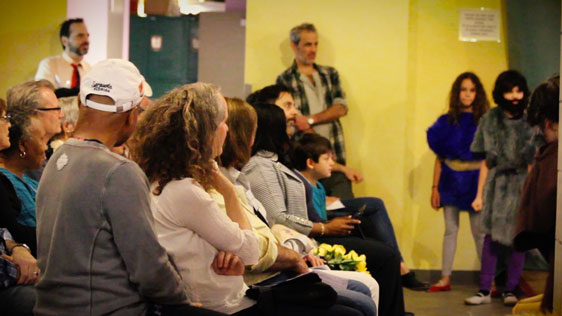 PARENT EDUCATION EVENT
Building Community: Embracing a Community of all Races and Cultures at BWS
Next Monday, May 2 • 6:30 p.m. – 8:00 p.m.
in the Solarium

Do families of all racial and cultural backgrounds feel integrated into the Brooklyn Waldorf School community?

Vicki Larson & Leslie Laboriel, Diversity Committee co-chairs of the Green Meadow Waldorf School, will facilitate an initial discussion on the nuanced politics of race and culture in our school community and beyond.

All members of the Brooklyn Waldorf community—parents, faculty and administrators—are invited to attend.

Childcare provided; please contact Amy Sherman: Amy@brooklynwaldorf.org

Brought to you by the Parent Education Committee
Screening of the Film: Screenagers
Next Wednesday, May 4 • 6:30 p.m.

The Brooklyn Waldorf School will be screening the film Screenagers: Growing Up in the Digital Age on Wednesday, May 4 at 6:30 p.m.

Screenagers explores how teens interact with each other using electronic devices (smartphones, computers, social media) and how the use of these devices affects young minds. Watch the trailer here.

All parents and children in grades 5-8 are invited!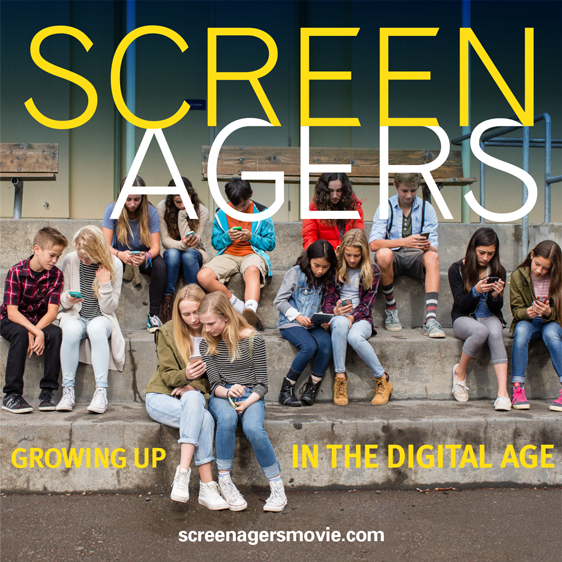 ---


MAY 7
---
Scootathon Fundraising Tip of the Day

Setting Goals = Fundraising Magic!

We recommend setting a goal for your fundraiser and keeping everyone you know updated on how close you are to your goal. Your friends and family will want to help you get there if you give them a reason why it's so important to you.

Every rider should strive to get at least 10 sponsors.


To set a fundraising goal:
1. Login to Crowdrise
2. Go to the Scootathon Fundraiser:

3. Click EDIT FUNDRAISER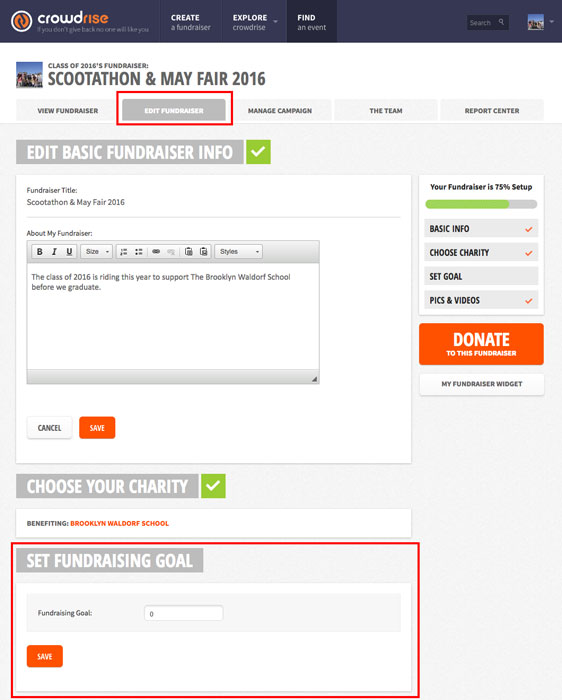 4. Under SET FUNDRAISING GOAL click
(Edit)
5. Enter a dollar amount and click SAVE
May
---
9
Parent Ed: The Developing Child's Body & Soul Relationship • 8:45 a.m.
10
Spring Concert • 6:00 p.m.
12
Grade 6 & 7 Play:
What a Wonderful World
• 9:00 a.m. & 6:30 p.m.
13
Grade 6 & 7 Play:
What a Wonderful World
• 9:00 a.m.
18
Grade 8 Parent Evening & Potluck • 6:30 p.m.
19
Grade 2 Play
20
Grade 2 Play
26
Grade 5: Pentathlon at Garden City
27
After School Program Assembly • 10:45 a.m
Half Day — NOON DISMISSAL
30
Memorial Day — SCHOOL CLOSED
For more information about the school calendar:
UPCOMING PARENT EDUCATION EVENT
After Drop-Off Talk w/ Lisa Romero:
The Developing Child's Body & Soul Relationship
May 9 • 8:45 a.m. – 10:15 a.m.

Lisa Romero returns to offer an introduction into the anthroposophic understanding of child development. She will explore what is needed to support a child's growth at various stages of their school life. This brings harmony between the evolving body and soul which sets the ground for healthy adult experience. The lecture also addresses gender differences and similarities that can limit or free us.

Brought to you by the Parent Education Committee
Spring Concert
May 10 • 6 p.m.

Grades 1 through 8 will perform general music, music and movement, chorus, recorders/choroi flutes, strings, and orchestra.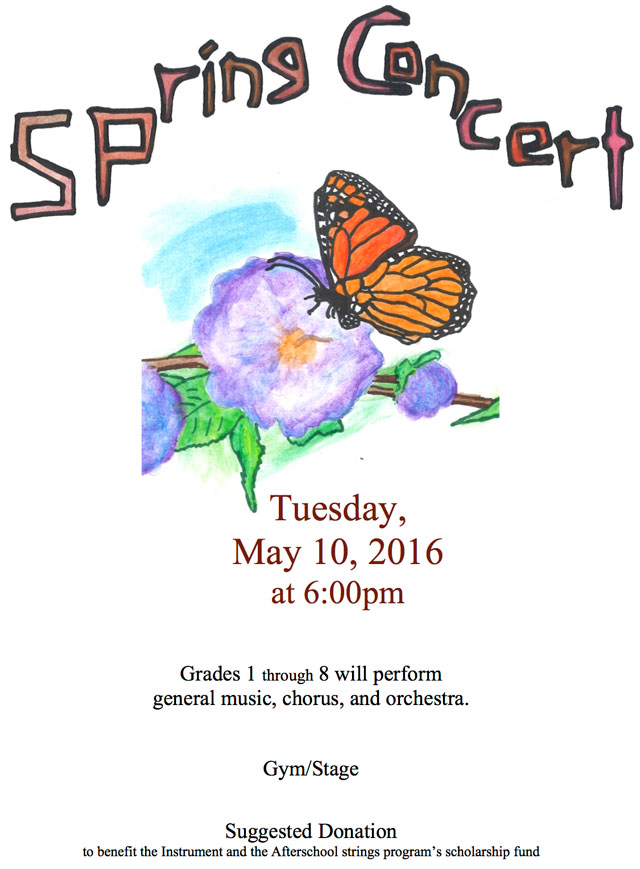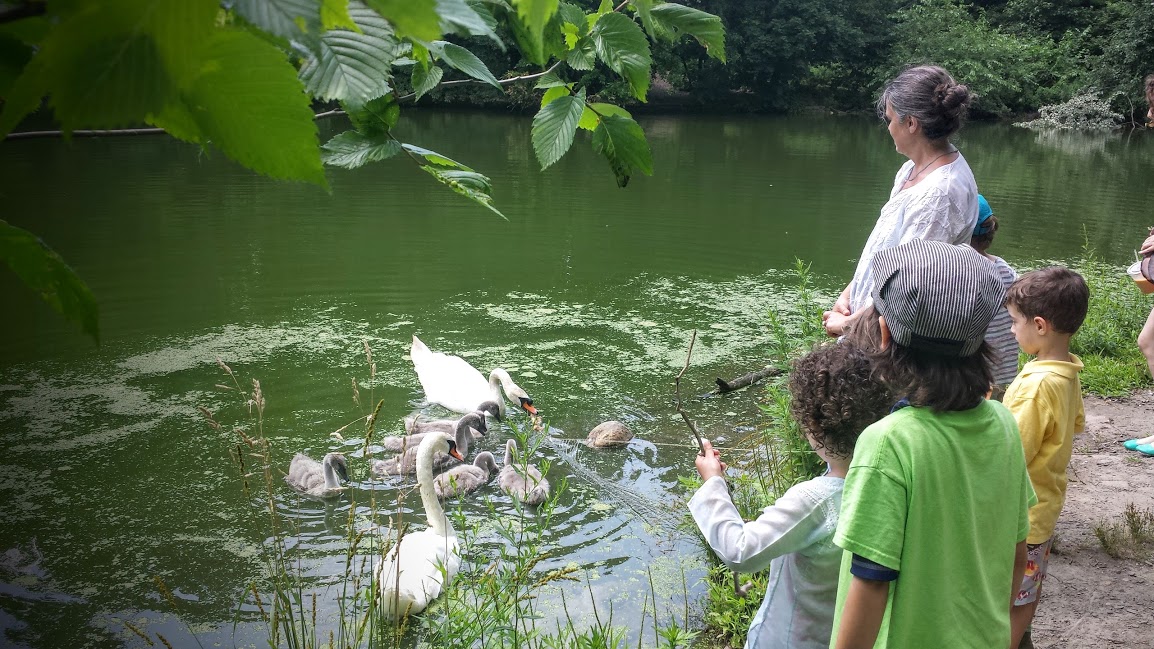 JOIN US FOR SUMMER FUN!

The Brooklyn Waldorf School offers camps for Early Childhood and Lower School students in the months of June and July. This year's summer camps include Capoeira Camp and Acting Improvisation for Lower School students, and the return of our popular Outdoor Explorations camp for young children.

Read on for more information about our camps, or visit our website, and register today!

Early Childhood Camps
Mondays thru Thursdays
9 a.m. to 1 p.m. | Aftercare available until 3 p.m.

Splish Splash Water Play
June 27–30 | Ages 3–6
Cool off from the summer heat with us! We will be jumping in the sprinklers, playing in big tubs, making giant bubbles and creating with wet felt and water colors. Teachers Ms. Monika and Mr. William will lead this camp, which has a rhythm similar to our regular Early Childhood school day.
Outdoor Explorations in Prospect Park
July 5–14 • July 18–28 | Ages 3¾ – 6
Join Ms. Tamar, Ms. Kyra and Ms. Nneka in exploring the nature of Prospect Park! Children will make boats to float, build fairy houes and villages, fish, build a shelter, make musical instruments, take long walks, observe animals and listen to stories. Children should be able to carry their backpack lunch and water bottle into the park, as this camp will involve some walking and exploration.

Grade School Camps
Mondays thru Thursdays
9 a.m. – 3 p.m.
Ages 7 – 12
Enter Laughing: Acting Improv w/ Pat Sciortino
June 27–30
Join us for a week of improv with teacher Pat Sciortino! Improvisational play utilizes humor and games for social/emotional and executive functioning skills development. Theater games are the building blocks of improvisation. Each game focuses the players on an explicit short-term objective that can only be met through social interaction and the shared reality of the players. Students experience two perspectives, that of the players and of the audience members. Most especially, students get to use their own ideas and knowledge to build stories, without dictation of an adult.
Capoeira Camp with Curu
July 18–22
Instructor Eder "Curu" Souza of the Raizes do Brasil Capoeira studio joins us for a week of Capoeira. Capoeira is a rich and multi-dimensional art that teaches culture, language, music, and flexibility. Children will become acquainted with all elements of this art form and learn new ways of moving their bodies in time with rhythm, play percussion instruments, sing songs in Portuguese, and gain confidence in expressing themselves through dance while encouraging the same in others.
— COMMUNITY ANNOUNCEMENTS —

Looking for Summer Childcare?

Hello BWS Families,

Some of you may remember me as Ms. Ariane. For those of you that don't know me, I was an assistant in the Kindergarden with Ms. Meggan for two years in addition to assisting in the after-care program and summer camp. I also happen to be a Waldorf alumn!

This past year I was away teaching English in France and will soon be returning to Brooklyn come May.

I wanted to reach out to the community to let you know that I am available for summer childcare. So if you, or someone you know is looking for a summer babysitter/nanny, please do not hesitate to contact me. I can be reached at ariane.mallon@gmail.com

Warmly,
Ariane

Seeking Art Studio

Dear BWS Community,

Help needed finding an art studio to rent! My husband, London has to move out of his awesome Gowanus studio by the end of May because they are renovating the building. He is in the midst of a large body of work for an upcoming exhibition and will need to find a space quickly. He currently has 600 sq ft and is looking for something comparable but he would be open to something as small as 300 sq ft or something larger he could share with other artists. He uses large power tools and welding equipment so industrial spaces are best. Thanks for any help or ideas you may have!

Michelle Moyer-Tsai (mother of Kelsyn and Sakhaya)
michelle@brooklynwaldorf.org

Life as Sport — Book Release!

Hello Brooklyn Waldorf Parents and Staff!

I am delighted to invite you to the release party for my book, Life as Sport, happening on June 1 at 7p.m. at The Strand — with an after party at our Union Square Practice offices (right across the street). Life as Sport shares sport and performance psychology skills that can help anyone enhance motivation, set productive goals, sharpen routines, and clarify thought processes, and helps readers apply them to real-world situations at work, home, and play. The book also has examples of how to utilize these skills to apply to parenting and teaching.

Please feel free to invite anyone else who might be interested, it's going to be a blast!

http://www.strandbooks.com/event/jonathan-fader-life-sport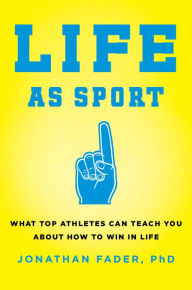 Waldorf Education Marketing Survey

Dear <<First Name>>,

We are requesting your participation in the Association of Waldorf Schools of North America's electronic marketing survey:


Results of the survey will be used to further Waldorf Education's continental brand recognition and message – a message aimed at conveying confidence in the credibility of the Waldorf experience and strengthening the visibility of our schools. The survey should take no longer than 15 minutes to complete. Responder information will remain anonymous.

The data from the survey and resulting marketing tool kit will help Waldorf schools to refine the Waldorf message, inform member schools' use of marketing dollars, create a collaborative and sustained effort to build brand awareness, and increase digital presence continentally. The research is quantitative, and collecting of data will take place until May 2, 2016.

Completing this survey makes you eligible to win a one-year subscription to Renewal: Journal for Waldorf Education.

Thank you for supporting this important work!

Dragon's Way Qigong
 Class

Six Wednesdays
May 4 – June 8 • 7:30 – 8:30 p.m.
Brooklyn Society for Ethical Culture
53 Prospect Park West

The trees are blossoming! Are you? Join me for a six-week spring cleanse for the body, mind and spirit. Leverage spring's abundant energy and learn how to use Qigong exercise and the principles of traditional Chinese medicine (TCM) to reduce stress, calm the mind, lose weight and increase energy. $200 for six weeks.

Instructor: Former BWS parent Christine McQuade.

Read more and register.